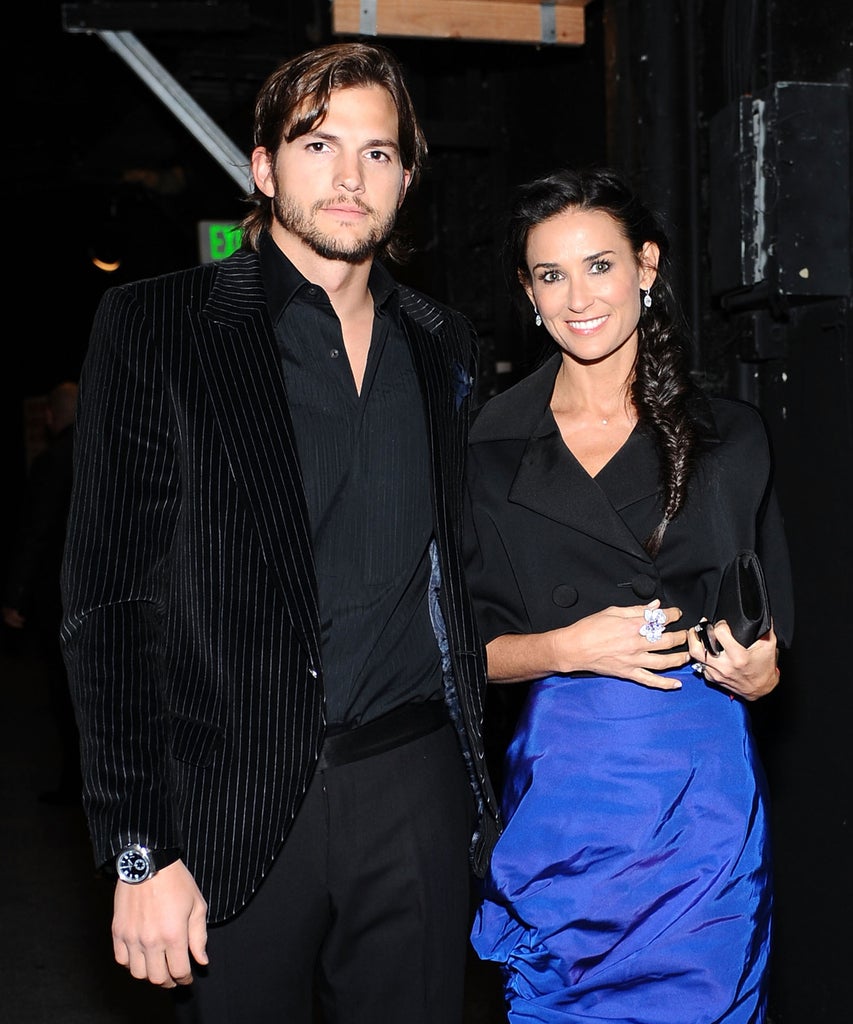 Demi Moore is opening up about her relationship to Ashton Kutcher in her new memoir, Inside Out. The couple began dating in 2003, married in 2005, separated in 2011, and finalized their divorce in 2013. Throughout, the media was fascinated by their 15-year age difference. According to People, in the memoir, Moore shares that Kutcher used past threesomes to "justify" cheating on her.
Moore writes that she tried to be Kutcher's ideal woman. She "went into contortions to try to fit the mold of the woman he wanted his wife to be," including sexually. "I put him first," she writes. "So when he expressed his fantasy of bringing a third person into our bed, I didn't say no. I wanted to show him how great and fun I could be."
But Moore felt regret after the threesomes. "They were good people, but it was still a mistake," she writes. "I was strangely flooded with shame, I couldn't shake the feeling that this whole thing was somehow my fault."
And when he allegedly cheated, Moore shares that Kutcher used the fact that they had engaged in threesomes to justify his actions. "Because we had brought in a third party into our relationship, Ashton said, that blurred the lines and, to some extent, justified what he's done." The pair separated soon after Moore learned that Kutcher allegedly cheated on her a second time, this time with a 21-year-old woman. "I knew she wasn't lying," she writes. "He admitted it right away."
According to USA Today, Moore also details how she broke 20 years of sobriety while dating Kutcher. He told her that he didn't know "if alcoholism is a real thing," and Moore believed he wanted "the girl who could have a glass of wine at dinner, or do a tequila shot at a party." She writes, "I didn't think, This is a kid in his twenties who has no idea what's talking about. I didn't think, I have nearly two decades of sobriety under my belt, and that's a huge accomplishment. Instead, I cast about justifications for his argument." After miscarrying a pregnancy at six months, she writes that she abused alcohol and Vicodin.
In her memoir, Moore also discusses her sexual assault at age 15, her mother's suicide attempts, and her former estrangement from her daughters. She recently told the New York Times that she doesn't want to place blame on anyone, simply to tell her story. "I'm definitely not interested in blaming anyone," she said. "It's a waste of energy."
Like what you see? How about some more R29 goodness, right here?
Demi Moore Talks Marraige To Ashton Kutcher
Ashton Kutcher Addressed Cheating Rumors