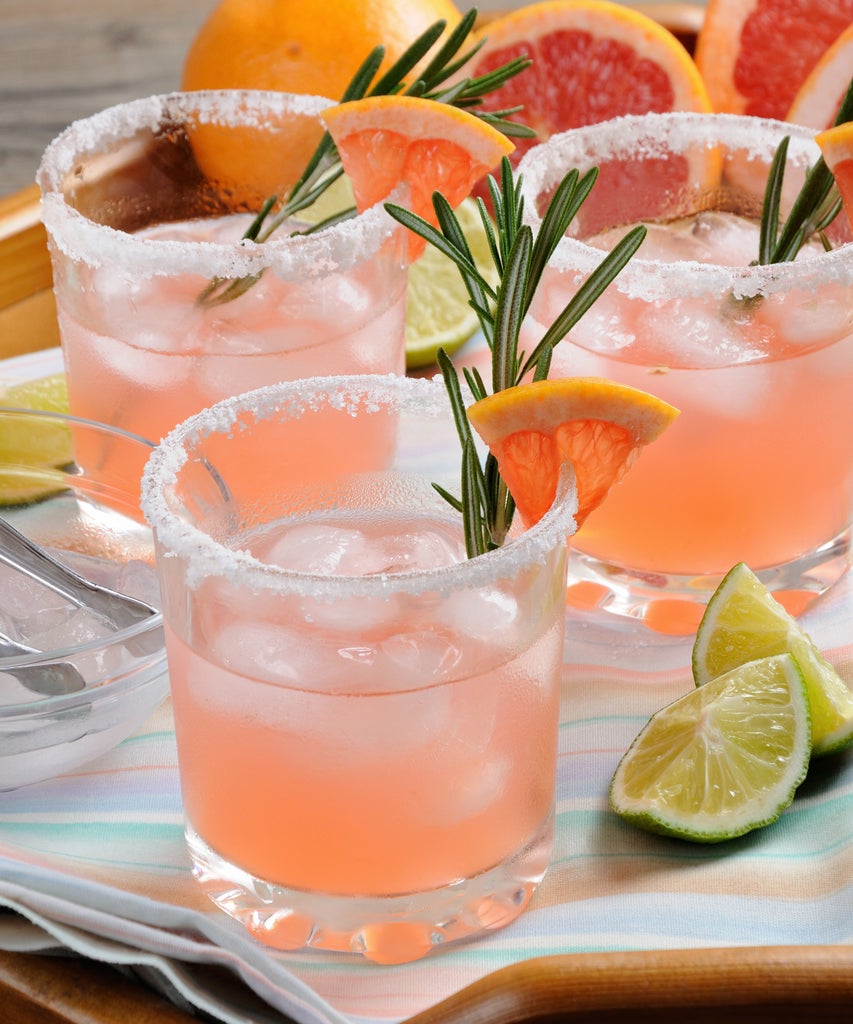 Look, on the one hand, impeachment is very serious and lengthy and probably unlikely right now. On the other hand, to quote Childish Gambino's "This Is America," "We just want to party." Ever since Nancy Pelosi's announcement of an impeachment inquiry into Donald Trump on Tuesday, there's been a certain vibe in the air. A tiny feeling that justice is finally, at least somewhat, being served, and a desire to celebrate this — however ephemeral — tiny feeling with copious Champagne. 
The mood can be summarized by BuzzFeed's headline from Tuesday night: "Hot Girl Summer Is Out, Impeachment Fever Fall Is In." What does impeachment fever look like? For starters, the stratospheric spiking of Google search terms like "impeachment party," "impeachment cocktail," and "impeachment recipe." #ImpeachmentParty trending on Twitter. People posting that they're about to buy their Trump piñata and invite friends over for "im-peach-mint" cocktails and peach cobbler, or making a pretty peach pie and posting it in all its glory.
"I've been so excited about the prospect of this really happening," Alysia Abbott, 48, a writer in Cambridge, MA, posted on Facebook Tuesday night, adding that she's been dreaming of "im-peach-mint" cocktails and freshly baked peach pie. "What are we going to wear to the impeachment party? Because there WILL be a party. I feel like I'm tempting fate imagining all of this, but it's too delicious not to contemplate."
Even repeating the word "impeachment" — with its soft, whispery core and a sweet Georgia peach in the middle — feels pleasant, although still a little taboo, to Abbott. She says she hasn't actually planned her party yet, and has been a little hesitant because she doesn't want to set herself up for more news-induced disappointment. But mentally and emotionally, she's getting closer to it.  
"I just think there's so much pent-up energy," Abbott tells Refinery29. "So many people have been waiting for some form of justice for what seem to be egregious criminal acts by the president. And I had a nice bottle of Champagne ready for after the Mueller report came out, but that report was such a disappointment that I never opened it."
Abbott says her friends responded positively to her Facebook post and that some even popped Champagne last night. She envisions her party as glamorous, but a little Gen X- infused rock 'n' roll, too. Winona Ryder in the last scene of Heathers came up. "Rock 'n' roll ball gowns, like a gala, but with confetti and balloons. Maybe there could be some Joan Jett and Sex Pistols and a riot grrrl soundtrack. The 'im-peach-mint' cocktail could be in a giant punch bowl. We can all go in my backyard if it's nice out." 
This isn't #ImpeachmentParty's first rodeo. People have promising to host impeachment parties since before the 2016 election. Heather Havrilesky wrote about it on The Cut in 2017: "I think we all deserve to drink and dance and feel good about the world for a few hours at least." The Facebook and Twitter posts were hopeful. But now, they might actually turn into reality. (Plus, peach season is over in late September so it kind of needs to be now if we want fresh fruit.)
In Houston — a blue bubble in the conservative state of Texas — Brittany Bly, 39, is feeling a similar type of energy in her circles. The owner of Pop Shop America, a creative agency for DIY and crafts, she posted the recipe for a cocktail called The ImPEACHment back in September 2016. (The foresight…) Developed by Bly, who's worked in quite a few kitchens herself, it's made with vanilla-infused whiskey or bourbon and fresh peach. Bly's recipe is far from the only boozy impeachment-party suggestion on the internet: As just a couple of examples, Trap Door Brewing in Vancouver, WA, makes a peach-cobbler sour ale called ImPEACHment and Friends & Allies Brewing in Austin, TX, makes a saison (a pale ale) called ImPeach.
Bly says that yesterday, traffic spiked for the blog post after Pelosi's announcement and it was the day's most popular post on Pop Shop, with most of the views coming from Google search — it's one of the first pages that comes up when you type in "impeachment cocktail." The site typically gets about 40,000 to 50,000 views a month, she says.
"It's funny, because I created it at the beginning of the campaign season and later, was just shocked at how things changed so quickly, and it became so much more real than just this idea of, 'Haha, an impeachment cocktail,'" Bly tells Refinery29. "I started sharing it more when Trump became president. At first I was scared to post it, but the response has been great. People think it's funny and they love the sentiment." 
There will always be people who don't want to make light of subjects like impeachment. But for Bly, an adherent to craftivism — a craft-based movement in the spirit of making positive change in the world and practicing self-care — having fun with it has been therapeutic. "To combine what's intended to make you feel good in your everyday life with politics is a great way to both feel good about being politically active and a unique way to connect with others and share your belief system with the world." 
She adds: "Hopefully we can have more moments like this where there's a sense of optimism."
Like what you see? How about some more R29 goodness, right here?